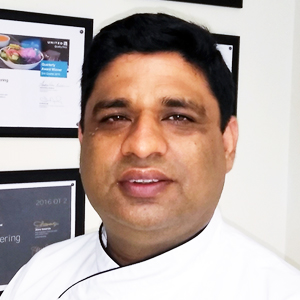 Regional Executive Chef, North India - Travel Food Services
Chef Sudhir has been associated with Oberoi Hotels for close to 14 years, after having worked on international Passenger Cruise lines for 4 years, with immense exposure to commercial production and new technology.
Chef Sudhir Arora has also worked as the R&D head for a NYSE-listed company, national head for SAHARA INDIA and assisted many brands to develop new recipes.
Chef Sudhir is presently associated with Travel Food Services, as Regional Executive Chef, North India. Handling operations at T3 New Delhi, Haridwar (where we have a food court) and Agra (Rail Dhaba) . Haridwar was a pilot project and based on the success of the same we are planning to have four more such food courts in next one year.