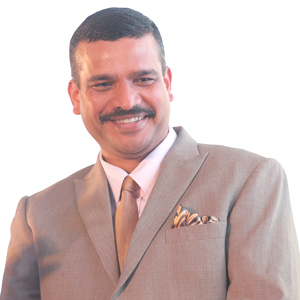 Founder & General Secretary - HPMF
Nitin Shankar Nagrale is working with Foodlink Restaurants India Private Limited as Vice President Materials and Projects since January 2017.
He brings with him a rich experience of over 24 years during which he has been actively involved in managing procurement and supply chain procedures for key hotels like Taj Mahal Palace & Towers, Taj Lands End (The Regent Mumbai), Grand Hyatt Mumbai, The Westin Mumbai Garden City, Sofitel Mumbai BKC and the upcoming The Chedi Mumbai (formerly Radisson Blu Plaza Mumbai) Director Materials.
Nitin Shankar Nagrale played an instrumental role in purchase of Operating Equipment and Supplies as part of the pre-opening team at the Grand Hyatt, Westin Mumbai, Sofitel Mumbai BKC and at The Chedi Mumbai. At Starwood Hotels he has represented India, Bangladesh and Nepal as a region at the Purchasing Council and at Sofitel he was involved in setting up Sofitel Bangkok and Sofitel Bali. Before this he has worked with Jet Airways, RKHS and Dawnay Day India Land Private Limited.
Nitin Shankar Nagrale is also the CEO of Quality New Zealand India – a unique business model owned by some world class cricketers of New Zealand like Sir Richard Hadlee, Stephen Fleming, Brandon McCullum and Daniel Vettori.
Nitin has been awarded with the Top 50 Innovation Leaders 2018 by BTVI, Hall of Fame Award by Trinity at Goa, Dr APJ Abdul Kalam Lifetime Achievement Award 2018 at Bangalore, Hospitality Professional of the Year 2018 at MODI (Making Of Developed India) Awards For Excellence In Hospitality & Tourism, Best Procurement Manager at India Hospitality Awards 2017, Most Admired Procurement Person of the Year at CMO Asia 2017, National Award at India Hospitality + F&B Pro Goa 2017, Jury Award for Exemplary Contributions to the Profession at Indian Hospitality Awards 2017, Face of the Future by India Hospitality Awards 2016, Procurement Leader of the Year 2016 Award at Hotelier India Summit in June 2016 and Excellence in People Development Award from CPO Forum in July 2015. He was awarded the first "Business Manager of the year 2001-2002" and recognized as "Best Manager on Duty" at The Regent, Mumbai. He is also been awarded with "Certificate of Appreciation" for successfully opening of the Grand Hyatt Mumbai, The Westin Mumbai Garden City and Sofitel Mumbai BKC. In 2010 and in 2016 he was among the finalists the "Best Procurement Manager Year Award" from Hotelier India.
He is the First Person in the World to have completed the CERTIFIED HOTEL PURCHASE MANAGER Certification Course from American Hotel and Lodging Education Institute (AHLEI).